Overview
Are your children getting bored at home and missing the fun activities they engage with at playgroup? We are missing you too which is why we are excited to start bringing playgroups to you in the comfort of your own home.

Messing Around
We have fab messy play sessions for babies and toddlers with new gloops and goos to explore each week. Come and let your little dreamers splat paint, squelch gloop and splash water and let us do the tidying up!
Trucks in the mud: Your vehicle loving toddler is goin to love this construction-themed messy session, the perfect place to have fun in mud without the cleaning up!
Steam Session: Sensory play encourages children to engage in different materials, exploring how they act and how they feel. Come and have fun exploring science in a fun messy way with your little ones.
Interesting Insects: This week we are exploring Interesting Insects. Let your little dreamers squelch in mud while finding wriggly worms and untangle their way through a spider's web.
Stomping Dinosaurs: This week we will travel back in time to the land of Stomping Dinosaurs. Your little dreamers will explore dinosaur footprints, dig for dinosaur bones and birrrrrrr rescue them from the Ice Age.
Under the Sea: Let your little dreamers travel under the sea to a world of wonder. Make your way through the slimey waters to see what you can find.
Over the Rainbow: Somewhere over the Rainbow our Little Dreamers will explore all things colour. From mixing to splatting let's learn our colours in a fun and interactive way.


Story Time:

Bringing stories to life for babies through to preschoolers by stimulating their imagination and expanding their understanding in these little dreamers storytelling groups. Each week our little dreamers will discover a new story together and go on our own magical adventure as we enjoy exploring the book's theme, characters, colours and more.

10 Little Dinosaurs: 1 little, 2 little, 3 little dinosaurs. Come on a counting dinosaur adventure as we stomp around our centre finding dinosaur eggs and make your own dinosaur to take home
Daddies are Awesome:Fathers Day Special: Daddies are awesome! They're warm and delicious. They tickle and hug you and shower you with kisses. Come and celebrate our dads with this fathers day special where we will make a special gift for him.
Dear Zoo: Take a journey with Rob Campbell as he writes to The Zoo to send him a pet. Join us with your little dreamers to bring the story alive, discover a love for books, learn new vocabulary, and use our imagination to create a Zoo while we play with the characters in the story.
Elmer: Explore colour and shapes as we read Elmer by David McKee. Your little dreamers will bring the story alive creating their own patchwork elephant and discovering that it is ok and fun to be different.
The Very Hungry Caterpillar: Bring your very hungry little dreamer to explore Eric Carle, The Very Hungry Caterpillar. We will bring the story alive while learning new vocabulary in a fun and interactive lesson.
The Gruffalo: Why didn't you know, Julia Donaldson stories are a firm favourite here at ESF Language & Learning. Your little dreamers will love The Gruffalo, as we make our way through the deep dark woods to bring the characters alive and develop their vocabulary.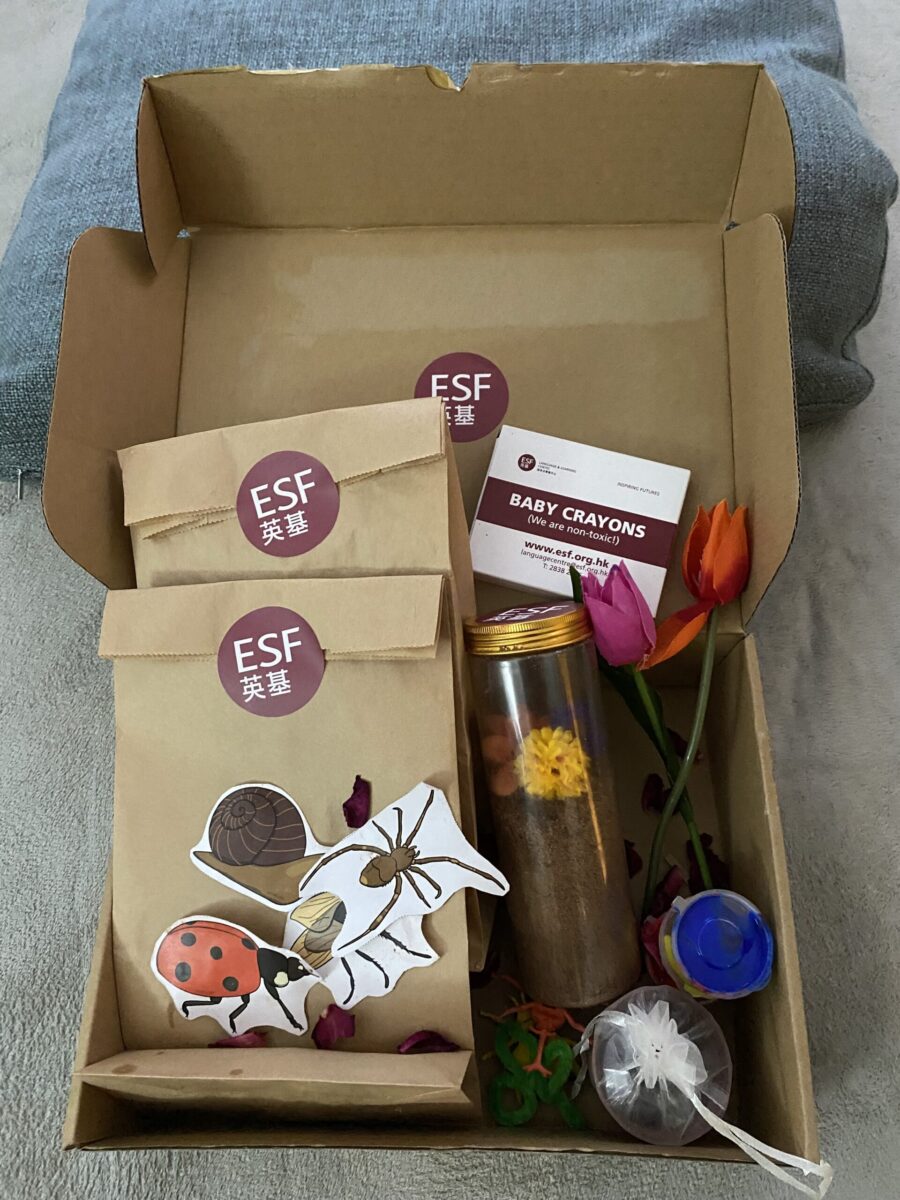 This pack will include:
2 Sensory activities: Let your child develop their senses by exploring the materials included
2 Fine motor activities: help your child refine their hand-eye coordination
2 art activities: As you know we pride ourselves in process art where your children can learn lots of new skills
What you need to know...
Cut off time
Cut off time for each week's pack is every Wednesday. Parents will receive the pack through delivery by the next Monday
Remarks
You can order our June pack now!
The first shipment will be on June 1st.
Delivery fees are not included in the price. It is at your own cost.