Overview
Weekend Multi-Sports brings the fun of our holiday camps to children 3-5 years old on a weekly basis. This programme helps children develop their motor skills and social capabilities from an early age. Through implementing creative mini-games in the class, children will gain the confidence and experience to participate in a whole variety of sports activities at ESF Sports when they turn 5 years old! Our controlled free-play, guided discovery, and fun activities are all designed to stimulate your child's enjoyment of sports!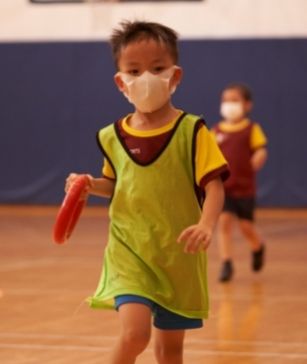 Highlights & Outcomes
Firsthand experience of a variety of sports mini games in a safe and engaging environment
Discover the importance of the athletic position
Discover how to throw, catch, kick, and strike with a ball
Discover a love for sports
Develop the confidence to interact socially with peers
Develop gross motor skills and correct techniques to ensure a strong start to their engagement in sports
What you need to know...
Remarks :
One guardian required for every participating child.
Remarks
ESF Explore offers various programmes suitable for all ages up to the Secondary level. Other than sporting courses and language studies, we have programmes for Arts, STEM, and Playgroups for young ones.
Check out our Term Dates in the link above by clicking "Learn More".
Late enrolments are accepted at pro-rata rates. So jump in anytime!