Overview
In this advanced basketball programme, students will develop the consistency, quality, and use of skills needed to play basketball in a team-based setting. They will learn problem solving techniques through application of tactics used to outwit an opponent, and also understand when to perform. Students will learn how to enhance individual performances and learn cooperation skills such as finding space off the ball or cutting to receive the pass.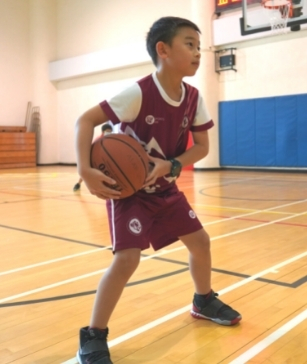 Highlights & Outcomes
Health, age- and stage-appropriate skill development
How to transfer or adapt higher-level basketball skills to game situations
Apply technical skills consistently within a team-based environment
Build knowledge and understanding of basketball rules and etiquette
Apply cooperation, teamwork, and self reflection skills
Develop higher level basketball skills such as boxing out or creating space through fakes
What you need to know...
Compulsory Equipment: Size 5 Basketball
Testimonials
"My son started training with ESF Tigers about 4 years ago. He has greatly benefited from both his individualized attention and teamwork scenarios given to the kids during their sessions. ESF Tigers provided the appropriate tools and most effective teaching style to complement my son's own commitment. They are doing an excellent job helping the kids build their confidence and character, as well as improving their skills. The ESF Tigers Basketball Programme is indeed a great programme. My son really enjoys it very much and looks forward to it every week!"
- Parent, Glenealy School
Remarks
ESF Sports & Language offers various programmes suitable for all ages up to the Secondary level. Other than sporting courses and language studies, we have programmes for Arts, STEM, and Playgroups for young ones.
Check out our Term Dates in the link above by clicking "Learn More".
Late enrolments are accepted at pro-rata rates. So jump in anytime!