Overview
ESF Phonics programme is suitable for a diverse group of students aged between 3 to 6 years old.

Phonics is suitable for kindergarten students who have a basic understanding of letter sounds. This programme provides an interactive learning approach to reading and writing through a variety of games and activities. In addition to games, students will learn high-frequency words and correct pronunciation of sounds. Handwriting is also an important component of each lesson, so there is plenty of opportunity to practise both lower and upper case letters.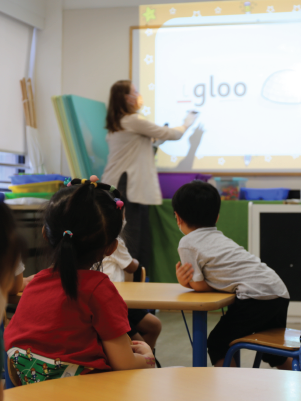 Highlights & Outcomes
Develop handwriting for both lower and uppercase letters
Blending consonant-to-consonant and vowel-to-vowel
Begin to write sentences & short stories
Pronounce words correctly
Develop letter formation for early writing
Segment and manipulate sounds
Remarks
ESF Explore offers various programmes suitable for all ages up to the Secondary level. Other than sporting courses and language studies, we have programmes for Arts, STEM, and Playgroups for young ones.
Check out our Term Dates in the link above by clicking "Learn More".
Late enrolments are accepted at pro rata rates. So jump in anytime!