Overview
In our Beginners programme, students will be introduced to the basic fundamentals of tennis in a fun-based learning environment. These skills include forehand and backhand groundstrokes and volley techniques. Students will also be introduced to basic serve and rally techniques through sending and receiving activities with both the coach and other students. All classes will be taught with red pressurised balls, approved by the Internetional Tennis Federation (ITF), with adjusted tennis court sizes specifically set for our beginners programme. The goal of this level is to ensure students are able to participate in the entry-level ESF Red Tournaments, which are held in a fun learning environment.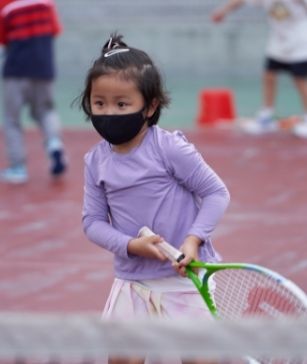 Highlights & Outcomes
Develop basic tennis fundamentals
Red-level pressurised tennis balls are used to fast track student improvement
Fun and dynamic learning environment
Confidently perform all basic tennis strokes including forehand, backhand, volley & introduction to serve with correct technique
To increase self-esteem through achievable skill goals and challenges
To perform a basic rally with either coach or students
What you need to know...
Compulsory Equipment: Tennis Racket
Testimonials
"My kids look forward to their tennis class weekly and they are very comfortable with their coaches and surroundings. As a parent, you don't really want anything else!"
- Andrea G, Renaissance College
Remarks
ESF Explore offers various programmes suitable for all ages up to the Secondary level. Other than sporting courses and language studies, we have programmes for Arts, STEM, and Playgroups for young ones.
Check out our Term Dates in the link above by clicking "Learn More".
Late enrolments are accepted at pro-rata rates. So jump in anytime!