Overview
Upper Primary English is a topic-based programme that develops reading, writing, speaking, and listening skills. Students will build confidence in expressing themselves in English through creative arts activities, lively discussions, and class debates. Games, literature, and a progressive coursebook are also included in the lessons to enhance vocabulary, grammar development, and writing skills.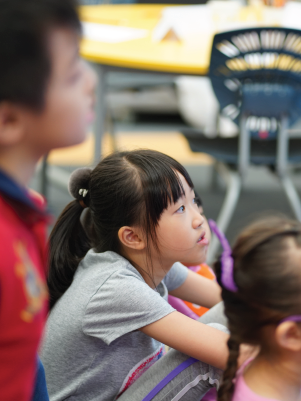 Highlights & Outcomes
Meaningful games to enhance application of vocabulary and grammar
Integration of arts & craft, drama, and other hands-on activities
Broaden global and sociocultural perspective through text from different cultures
Improve reading skills (scanning, predicting content, and completing texts)
Develop writers' imagery techniques
Hone oral skills & present confidently
What you need to know...
Compulsory Book:
The curriculum is supplemented with the course book Oxford International English 5 - Student Book & Workbook (HK$260). Please purchase this book when you check out.
Remarks
ESF Sports & Language offers various programmes suitable for all ages up to the Secondary level. Other than sporting courses and language studies, we have programmes for Arts, STEM, and Playgroups for young ones.
Check out our Term Dates in the link above by clicking "Learn More".
Late enrolments are accepted at pro rata rates. So jump in anytime!
Testimonials
"We see that the ESF classes provide a great platform for Frank to grow. Not only in his English language skills, but also in his confidence and ability to work in a group environment. We are delighted to have a place with much room for our son to bloom since his Lower Primary years. He always reminds us to enroll him again for the next term at every term ends."
- Frank Wong's parent