Overview
We are excited to announce that our sports uniforms are undergoing a transformation to better serve our students and athletes. We believe that sports uniforms play a crucial role in fostering a sense of identity and unity among our students, whether they are training or competing. With this in mind, we are implementing changes that aim to enhance performance, promote sustainability, and strengthen our community spirit.
PERFORMANCE ENHANCEMENT
We understand that comfort and functionality are essential for students to fully engage in their sports activities. That's why we are committed to using the latest advancements in student-athlete clothing technology. Our new sports uniforms are designed to provide maximum comfort, allowing students to focus on their class content and perform at their best. By investing in high-quality materials and innovative designs, we aim to optimize the sporting experience for our students.
EMBRACING SUSTAINABILITY
At ESF Explore, we believe in taking responsibility for our environmental impact. As part of our commitment to sustainability, we are introducing eco-friendly fabrics for our sports uniforms. We are proud to announce that our new uniforms will be made from a blend of 50% recycled bottles and high-quality polyester. By utilizing eco-fabric, we are reducing waste and promoting a more sustainable future, all while ensuring the utmost quality and durability of our uniforms.
FOSTERING COMMUNITY SPIRIT
The ESF community thrives on positivity, togetherness, and a shared sense of purpose. Our sports uniforms play a vital role in fostering this community spirit. Wearing a uniform that represents their ESF team empowers students and strengthens their connection to the core values of teamwork, sportsmanship, and camaraderie. We believe that by instilling a sense of pride and belonging through our uniforms, we are nurturing a supportive and inclusive community for all.
GENERAL POLICIES
To maintain the integrity of our uniform policy, we kindly request parents and guardians to support and adhere to the guidelines. It is important that students have the correct uniform, which should be clean, in good repair, and of appropriate fit. Wearing the proper uniform during class is essential, as it promotes unity, discipline, and a professional approach to sports education. In cases where students are unable to wear the appropriate uniform, we will respectfully inquire about the reasons to ensure a clear understanding and find suitable solutions.
Change is an integral part of growth and improvement. By embracing these changes to our sports uniforms, we are committed to providing our students with an enhanced sporting experience, promoting sustainability, and fostering a strong sense of community. We look forward to seeing our students wear their new uniforms with confidence and pride as they represent ESF Explore and excel in their athletic endeavours.
RETURN & EXCHANGE POLICY OF

SCHOOL UNIFORM
Return
Return is currently
not
available
but there will be exceptional product returns / refunds / repairs IF:
- The product is faulty or is not of acceptable quality; OR
- An incorrect product is delivered
Exchange
The current Exchange policy validity period is within
30 days (start from 1st Feb 2023)
of purchase for in-store sales and upon receiving the products for online delivery orders. The below conditions apply to all return and exchange items:
- There are NO free return & exchange and the provider will only cover the cost of delivery fee for defective product or wrong item received
- For any other type of return & exchange,
customers will be responsible for all shipping charges
generated from the process
- Only
ONE return & exchange request
can be made per order
- Please ensure the products are
unworn/unused, unwashed, with all labels & tags attached and the original packaging included
- If an item has a branded or size tag attached, it must be returned with the tag in its original position
-
Made to Order, Clearance & sales items , Socks items and customised items
are non-refundable, non-returnable and non-exchangeable.
- Customers must be able to
present a receipt or other sufficient proof of purchase
- A final inspection will be carried out by the provider's customer service team to ensure all items are in their original condition before processing your returns
- Returns that do not meet the provider's policy will not be accepted and will be returned to you at your cost
Inquiries & Customer Service
Please contact
School Uniform
if there are questions with regard to uniforms (sizing, material, delivery, etc.)
Telephone: 23755923
Email:
info@schooluniform.hk
PLEASE READ: Disclaimer
ESF Explore reserves the right to change course times, venues and dates at our discretion. Parents will be notified of any changes in advance whenever possible.

Uniforms are to be purchased only AFTER their first lesson and ESF Explore holds the right to cancel classes at least 1 day prior to the scheduled start date of the class.

Coach Duties in Uniform Enforcement
1. Teaching the importance of etiquette and discipline
2. Coaches are expected to wear their best attire and so are students
3. Additional tasks will be required for students that show up to class without uniform
How and when can I purchase a uniform?
After taking part in the first class, parents/guardians can find the respective uniforms based on their level by clicking on their respective sports in the tab above.
The store links for each respective sport is in the 'Individual sport store links' section.
You can select the individual items or bundle packages
Checkout with your desired address.
Uniforms should arrive around 3 working days, customised uniforms will require 7 working days.
It is advised that they do not wash or cut tags off uniforms in case classes are changed. Swimming students are advised to wear their own swim kit for their first lesson as we will assess the student's ability before confirming their swimming ability and level.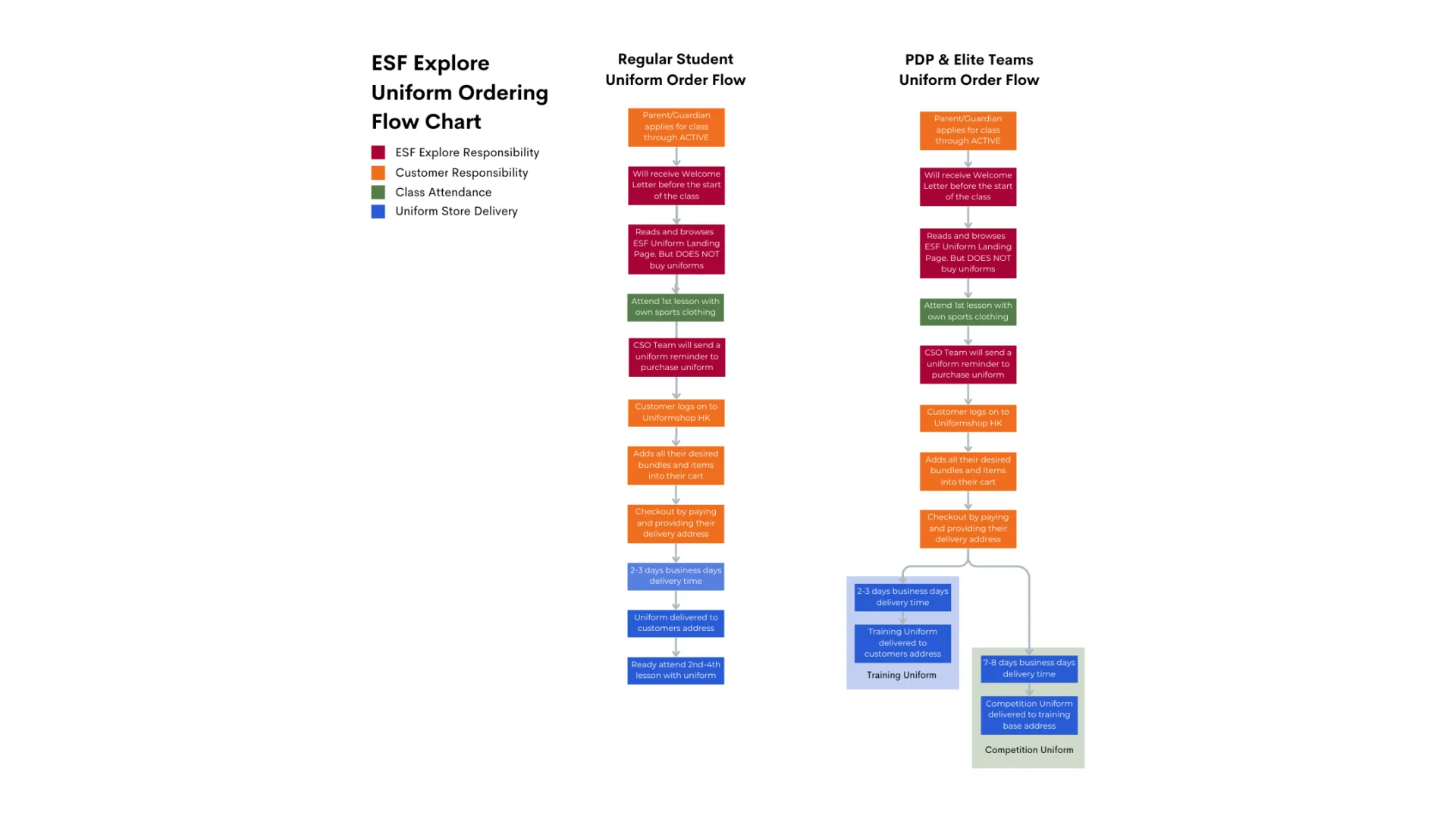 Click here for a bigger version of the chart above
Football
What do I wear based on my level?
Players of all skill levels will require to wear appropriate uniform for their training sessions
Learn to play students will require to wear their Lions Shirt, sports shorts and appropriate footwear of their choice
Player Development Programme (PDP) players will have to wear their training jersey, with the ESF shorts and appropriate football shoes to training sessions
Elite players will have to wear their training jersey, with the ESF shorts and appropriate football shoes to training sessions
PDP and Elite Players bring both their home and away jerseys, ESF Lions shorts, ESF Lions socks and appropriate football footwear in order to compete.
FBU7-U14 (Learn to Play)
ESF Lions Shirt
Sports Shorts or Pants
Socks
Appropriate Athletic Footwear
Player Development Programme (PDP), Elite Academy
Training
Competition

Team-Shirt
ESF Lions Shorts
Football Socks
Appropriate Football Footwear

ESF Lions Home Jersey
ESF Lions Away Jersey
ESF Lions Shorts
ESF Lions Football Socks
Appropriate Football Footwear
Click here to visit our store
Basketball
What do I wear based on my level?
BB1-BB6 (Learn to Play Levels)
ESF Tigers Shirt
Sports Shorts or Pants
Socks
Appropriate Non-Marking Footwear
Development League, Elite Academy
Training
Competition

ESF Tigers Training Jersey
ESF Tigers Shorts
Basketball Socks
Appropriate Basketball Footwear

ESF Tigers Reversible Jersey
ESF Tigers Shorts
Basketball Socks
Appropriate Basketball Footwear
Click here to visit our store
Swimming
SW1A-SW5
ESF Swimsuit or Jammer
ESF Sharks Swimming Cap
Swim for Fitness
ESF Swimsuit or Jammer
ESF Sharks Swimming Cap
Elite Swimmers
OR
Appropriate choice of Swimsuit or Jammer
ESF Sharks Swimming Cap
Team Shirt
Click here to visit our store
Gymnastics
ESF Leotard
ESF Base Shorts (Optional)
Socks
ESF leotards can be purchased at $320 per piece (your child should wear black leggings otherwise). Please send your request, with the size you need, to
info@esf.org.hk
. A payment link will be sent upon confirmation of availability. Receipt MUST be presented to the office via an email before the uniform gets dispatched. It may take up to 5 working days to process your equipment order due to logistics reasons.
| | |
| --- | --- |
| Ages | Sizes |
| 3 – 4 yrs | Child Intermediate |
| 5 – 6 yrs | Child Medium |
| 7 – 9 yrs | Child Large |
| 10 – 11 yrs | Adult Extra Small |
| 11 – 12 yrs | Adult Small |
| 13 – 14 yrs | Adult Medium |
| 15+ yrs | Adult Large |
*** The above size chart is for reference only.
Expansion Sports: Fencing, Tennis, Netball, Tag Rugby, Hockey, Krav Maga, Lacrosse
ESF Base Shirt
ESF Base Shorts
Socks
Appropriate running footwear
Individual sport store links